These are the best books I read this year. As with the movies, there aren't necessarily books published this year (most were published in 2013), but books I read this year. At the bottom are books that I'd rather hang in an outhouse and use as toilet paper than ever read again.
10. Disquiet by Julia Leigh (2008)
This slim novella must be read in one sitting for maximum discomfort. It's also a book written for writers or people prepared to peel apart the lines and actually look at what lies between.
9. To the Nines by Janet Evanovich (2004)
I read many Stephanie Plum novels this year. They're like the Friends of novels. You can read/watch them in any order. They're perfectly entertaining. Nothing ever changes. To the Nines is the perfect Plum, with an oddball plot that sends Stephanie, Lula, and Connie from Trenton to Vegas and back again.
8. The Golem and the Jinni by Helene Wecker (2013)
A superbly crafted work of historical fantasy combines non-vampire/non-werewolf fantasy creatures with a turn-of-the-century New York City setting in a slow, but rich, exploration of both society and humanity through the eyes of the Other, which, in an age of immigrants, is everyone. Wecker's protagonists are almost perfectly parallel, making this book a joy to reread and dig deeper into as well.
7. Mad About the Boy by Helen Fielding (2013)
Bridget Jones is my spirit animal, and her welcome return is markedly better than the disastrous Edge of Reason. Bridget shows us that as much as we grow, we also stay the same, and you know what? That's okay.
6. The Storyteller by Jodi Picoult (2013)
No, you're not looking at the wrong list. Yes, this is a Jodi Picoult book on my best list. Despite her formulaic nature, I've always admired Picoult's wit and humor, an intelligent restrained by her successful formula. When I first heard about this book, I thought, oh no, Jodes does the Holocaust. But she handles it respectfully and beautiful, breaking her own formula in some noticeable ways, but ultimately adhering to it. Here, it works.
5. Life After Life by Kate Atkinson (2013)
I read a lot of Kate Atkinson this year, and it was a tough call between Life After Life and One Good Turn, Atkinson's second Jackson Brody novel. Her characters in Life After Life were much more enjoyable to spend time with, which is necessary since you see them again and again and again as Ursula dies and is reborn in a never-ending cycle of triumph, tragedy, and savory black comedy.
4. Amy Falls Down by Jincy Willett (2013)
In this unexpected sequel to Willett's The Writing Class (The best book I read last year), Amy Gallup falls down and becomes famous. Funny how things like that happen. Willet's biting wit shines, and I'm pretty sure one of the book's supporting character is a thinly veiled caricature of Jodi Picoult. Like me, Amy also despises Jodi–er, Jenny's formula, but ends up respecting her as a writer and a person.
3. The Casual Vacancy by JK Rowling (2012)
The Casual Vacancy isn't Harry Potter, and that's a plus for me. A book that's more Dickens than YA fantasy, with a large cast of characters and a close-up look at grim and gritty social justice issues, The Casual Vacancy isn't an enjoyable book, but it's an important one.
2. Liar & Spy by Rebecca Stead (2012)
One of my favorite books this year was a book written for 10-year-olds. Stead's novel tackles issues with more depth and elegance than many adult books about similar topics. Strange, suspenseful, witty, humorous, and entertaining for all ages.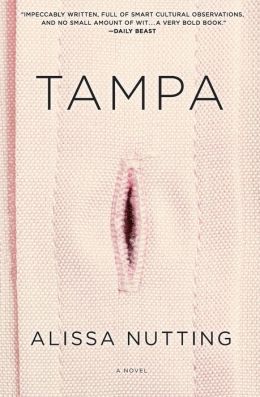 1. Tampa by Alissa Nutting (2013)
Daring, dirty, and provocative, Nutting's first novel tells the story of sociopathic schoolteacher Celeste Price and her uncontrollable desire for 14-year-old boys. (As I read on the internet this year, "If there's grass on the field, play ball.") Celeste is cold and calculating, and despite the graveness of the situations, Nutting fills them with laugh-out-loud dark-as-a-black-hole humor. Bonus points for having the most deliciously dirty book cover I've ever seen.
And now for my bottom five, books I'd be tempted to shred in a bookstore so as not to inflict them on anyone else.
5. Mr. Penumbra's 24-Hour Bookstore by Robin Sloane (2013)
A brainless book about a bookstore that has nothing to do with books. Feels like Google commissioned it and populated it with characters via algorithm, flat, soulless, boring.
4. I Know This Much is True by Wally Lamb (1999)
Lamb's bloated follow-up to She's Come Undone is infinitely more offensive than his fat-girl-likes-whales debut. A novel set against a backdrop of white male oppression turns into one where the white male jackass ends up succeeding. The moral: oppression pays off.
3. Paper Towns by John Green (2009)
Gone Girl for Teens. Nice Guy meets Cool Girl, both are so insanely fake and borderline sociopathic that they truly deserve each other. Except in Gone Girl, this is framed as a horror story. Paper Towns frames it as romantic, which makes it so much scarier.
2. Insurgent by Veronica Roth (2012)
500 Pages of Nothing.
1. The Dog Stars by Peter Heller (2012)
Speaking of Nice Guys, The Dog Stars should be called Nice Guys of the Post-Apocalypse. Dude that makes Angel from Buffy look chipper broods around brooding and being broody. He writes pretentious free verse poetry (i.e. this book) When his dog dies, he finds an even better replacement, a chick he can give his bone to. Triple barf.
To end the year on a positive note, I'm compiling a list of my favorite short stories and essays of the year. Not a stinker in the bunch! Will hopefully have that up tomorrow or Jan. 1 2015.